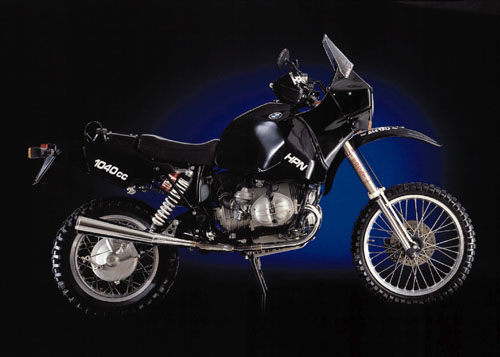 HPN-Paris-Dakar:
The "undestructable" HPN for the rallye- and tour rider
The HPN Paris-Dakar is a copy of the winning bike of Eddy Hau at the Marathon classement Paris-Dakar. With it´s double-swing arm it convinces by it's performance, easyness to handle, optic and it's extreme durability under all conditions.
Technical data
Dimensions, weights:
Wheelbase: 1620 mm
Unladen weight without fuel: ca 190 kg
Unladen weight DIN with fuel: ca. 220 kg, depending on accessoiries and tanks
Engine, electrical system, gearbox:
Displacement: 800ccm, 980ccm or 1043 ccm
Power output: from 37 KW / 50 PS up to 51 KW / 72 PS
Max. speed: up to 180 km/h, depending on the engine
Oilcooler: BMW with HPN-thermostat
Oilpan: Conical spacer with bottom plate in dural
Airfilter: BMW original
Tank: 43l HPN-tank, rear tank 7l, water tank 3l
Exhaust system: BMW R80 2in2 or HPN-racing
Generator: BMW serie
Ignition: BMW Serie or Q-Tech double-ignition
Battery: 12 V, 20 Ah oder 12 V, 8 Ah
Instrumentation: BMW serie GS or elektronical speedometer, different manufacturers
Gearbox: BMW 5-speed, optional 1.st gear shorter and 5.th gear longer
Frame and brakes:
Mainframe: BMW GS duplex steel tube cradle with HPN reinforcements
Subframe: modified BMW G/S with reinforcements
Teleskopic front fork: Marzocchi Magnum, ø50mm, 285 mm travel, or WP Suspension Upside-Down 295 mm travel
Shock absorbers: WP Suspension with adjustable compression and rebound damper
Swing arm: BMW R80G/S, 100mm lengthened with diagonal strut, 240mm travel with second swing arm on the left hand
Final drive: BMW original, ratio 3.09 or 3.20
Front brake: Single- or double disk, depending on fork
Rear brake: Drum brake
Wheels: HPN Sport with rim for tube tyres
Front tire: 90/90-21´´ different manufacturers
Rear tire: 140/80-17´´ or 18´´ different manufacturers
Other equipment:
Head light: 180 mm H4
Cylinder protection guard: BMW GS serie or HPN racing
Center stand: BMW GS with HPN modifications
Footrests: BMW GS
Prices on request depending on accessories etc.
If you own a BMW R80G/S or R80ST we can modify your motorcycle to the above specs.
HPN-Motorradtechnik terms of sale (business notes) in the german version are part of our business relationship and are accepted by placing the order.